Autumn in Sunnyside ushered in the same activities as any other small neighborhood across America in the 50's.  Aside from putting up preserves and preparing the garden for winter, Autumn welcomed a new school year at Sunnyside school.  This old school had been serving the neighborhood of Sunnyside since the early 1900's and finally closed to be incorporated into the Herrin school district in 1964.  This particular Autumn was the Fall Semester of 1953, when Aunt Bonnie embarked on her first day ever as a student and attended Kindergarten at Sunnyside.  She doesn't remember little details like what she was wearing, was it a sunny day, or did she make a new best friend. But when Aunt Bonnie smells the aroma of the second candle in the fall line of our Sunnyside Series, "Autumn Walk in Sunnyside", it distinctly brings to mind attending Kindergarten at the little school of Sunnyside.      
What do you think could evoke a memory of that time?  Could it have been brought on by the scent of dewy greens and aquatic floral plants reminiscent of the cool, shady morning of that first day?  A morning like that would have required a jacket and headscarf smelling of the comforting scents of home as she and Grandmother Ann ducked into the car.  As Grandmother drove the most likely nervous but excited little girl to her first day, she would have been smoothing over any fears of separation away from a beloved best playmate, my mother. 
Anxiousness turns to comfort by the end of the school day as new friends are made and Grandmother is there waiting when Bonnie exits the old school doors.  Holding hands, they walk home together in the warm, Autumn afternoon breeze.  Bonnie picks up the scent of ripe apples and pears that have fallen to the ground, grabbing up a few that haven't become a yummy snack for the neighborhood squirrels.  She skips along on dappled sunshine shadows, dotted across the acorn riddled sidewalks as they travel beneath the canopy of the mighty oak trees.  The scent of oakmoss, oak wood, acorn and musk surrounds them with a pleasant woodsy aroma as Aunt Bonnie regales Grandmother of tales of lessons about exotic African Lions, what happens when blue mixes with green and how to spell her name!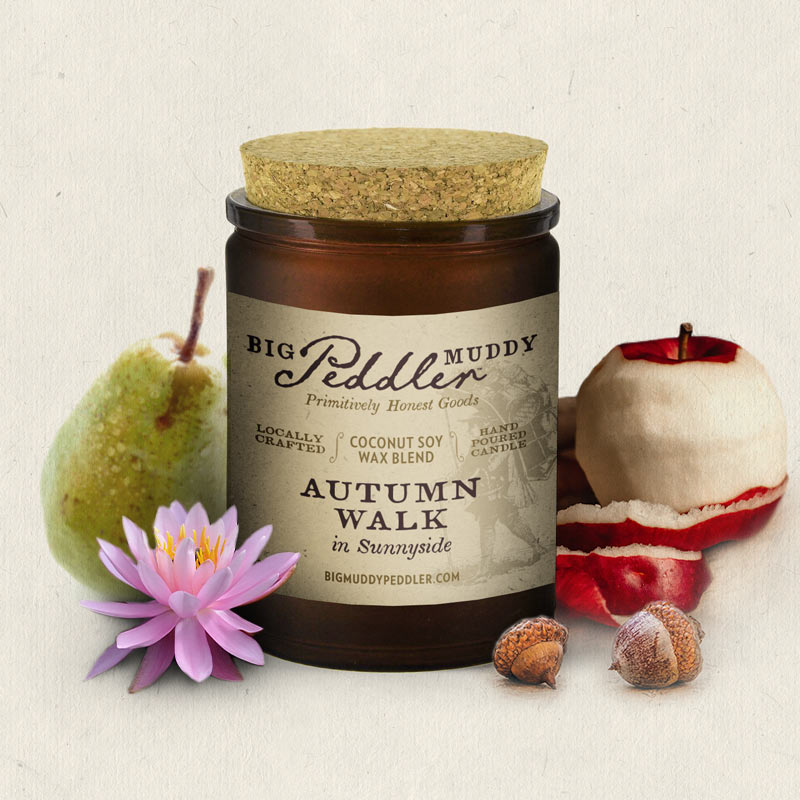 My guess is, rushing ahead of my Grandmother once Great Grandmother Della's house came into view, she was excited to find my mother, "Cookie", and share with her this great new adventure.  There, she finds Cookie sitting patiently on the front porch steps eager to hear every detail.  Lying in a pile of fresh raked leaves, Bonnie teaches Cookie all the new wonders she learned that day at Kindergarten, while they share the apples gathered, during the "Autumn Walk in Sunnyside".
What memories do you have of taking an Autumn Walk? I would love to hear about them.  If you would like to share with others, post them on our Facebook page.  If you would rather only share with me, then you are welcome to email me at info@bigmuddypeddler.com