Autumn has arrived in Sunnyside!  Sunnyside, is that special place that isn't on any map but only exists in the hearts of the local people who live in and around Williamson County, Illinois.  Most specifically, in the city of Herrin, Illinois.  This area was the location of the Sunnyside Mine that existed and operated between 1899 and 1925 and is located west of Herrin.  My Great Grandparents Harry and Della Mae Dameron had a small homestead there during the 50's and 60's where my mother and her siblings spent many memorable days.
Sadly, my mother passed away six years ago and missed the creation of Big Muddy Peddler but I am able to always include her by maintaining some sort of connection to her through my candles.  As with naming Rollie's Morning Brew and Annadelle's Warm Pralines after my grandparents, I am continuing that connection by sharing her childhood memories of visiting her Grandparents in Sunnyside.
In an effort to capture the magic of this special place, Big Muddy Peddler has created its Fall candle line to reflect the memories and stories my Aunt Bonnie has shared of her, my mother, and their siblings spending warm days and cool evenings down at their Grandparents little farmhouse.
The first candle of the Sunnyside Fall Candle Series is called "Autumn's Here! In Sunnyside".  This candle evokes the feeling of still warm days with some cool breezes, along with strolling through a pumpkin patch, and catching the aroma of warm spices and the woodsy musky smells of fir and cedarwood on the breeze.
Harry and Della had a very large garden and this scent reminds Aunt Bonnie of the times at the end of Summer and early Autumn when the garden had been harvested of its bounty.  Grandma Della had a canning porch built onto the back of the house where she and my Grandmother Ann would spend days canning the vegetables from the garden.  Some bounty would be traded for fruits from neighbors and other local farmers to bake many Autumn treats, among which were delicious apple pies and peach cobblers.  The windowsills would be lined up with rows of pies to cool before they were stored. Aunt Bonnie remembers how she and my mother, Cookie would be playing in the backyard or out in the chicken coop and would catch the scent of warmed fruits, spices and brine.  They were happiest then, knowing that those wonderful scents and flavors were promises of a flavorful Thanksgiving dinner come November, laden with all their favorite dishes.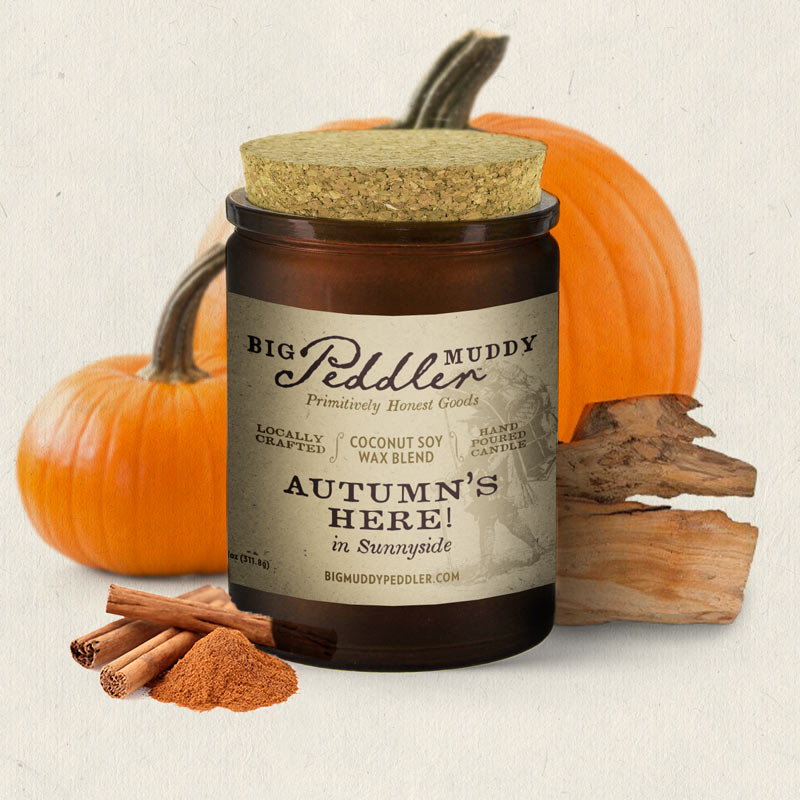 As aroma fills the room, you will smell the pumpkin and warm spices, fir and cedar. If you close your eyes, you could almost see the pies on the windowsill of the canning porch.  And if you listen close enough, just maybe you'll be able to hear an echo on the breeze of the two girls giggling as they run from the rooster.
I wonder what memories of your childhood will filter to your mind of early Autumn when you smell the fresh and warm aroma of "Autumn's Here! In Sunnyside".  I would love to hear about them.  If you would like to share with others, post them on our Facebook page.  If you would rather only share with me, then you are welcome to email me at info@bigmuddypeddler.com